A new recreational trend has been sweeping the country in the last few years. Trampoline parks are popping up everywhere, and they're taking one of America's favorite back yard toys to whole new heights since 2004 , and now there are many trampoline parks all around the world , only some countried still has less parks , even if in China, there are also many parks from 2014.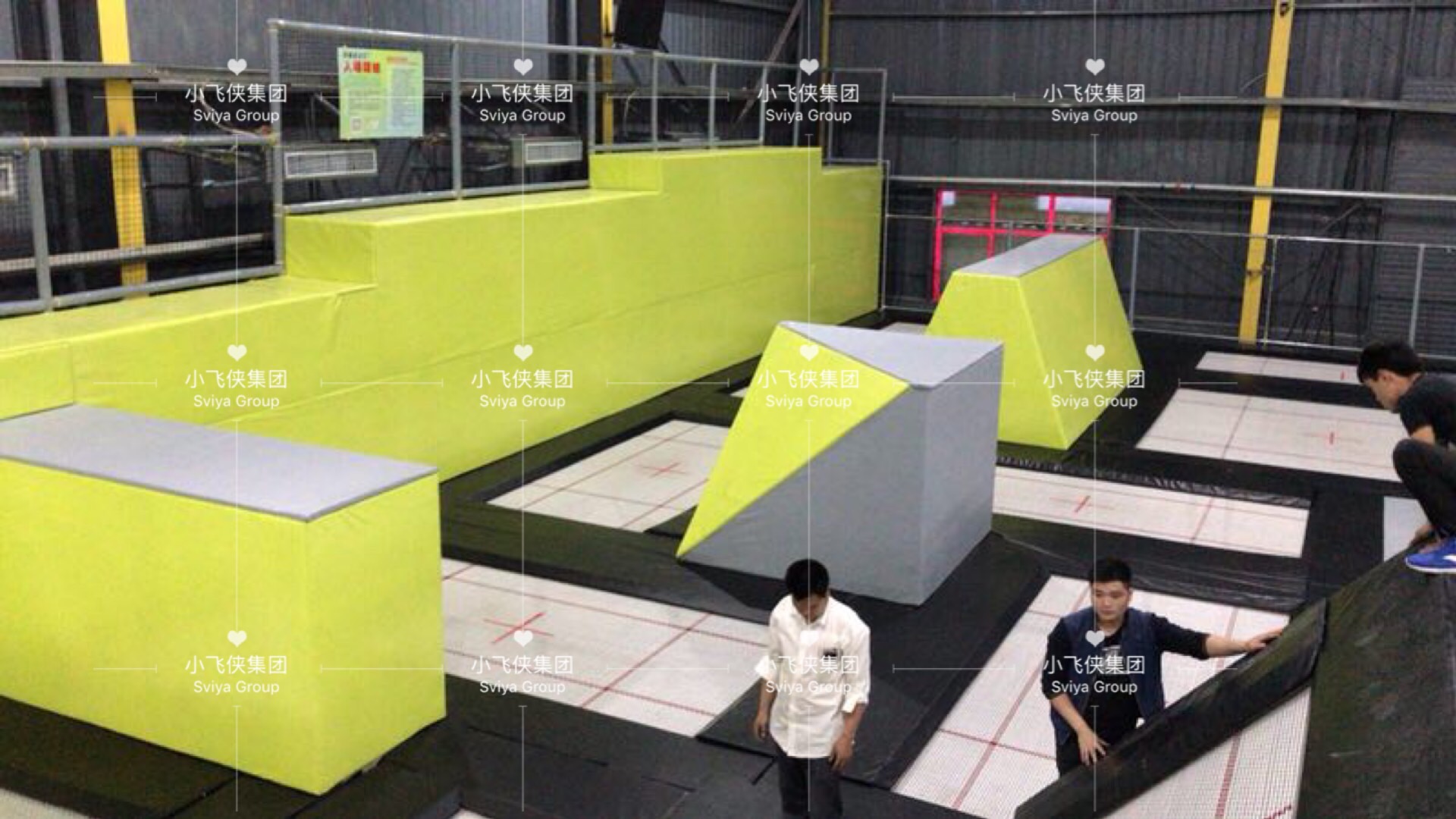 A trampoline park, at the most basic level, is a giant room filled with interconnected trampolines. There is a jumping floor of trampoline mats, with all the connections covered in safety mats, as well as a row of trampolines going up the wall which allow for more jumping options. Many trampoline parks also include areas for games like dodge ball, a basketball section, and even a foam pit to land in. Parks offer acrobatics classes for people wanting to learn all of those cool flip tricks, and some even host fitness classes, because trampolines make for great aerobic exercise.
The trampoline park activites changes too much , in the past there was only for jumping ,even it has been divided into main jump, dodgeball, basketball, etc, but all of them are on the base of trampoline , now there are many games are set up into the trampoline park, but they are not on the base of the trampoline, like zipline, skyline, magic slide,etc.
ORIGINS OF THE INDUSTRY
Surprisingly, the idea for a trampoline park wasn't thought up by some jumping fan looking to cash in on a popular kid's activity. It was originally supposed to be a sport. It begain in the USA in around 2004 , and was spread to Australia, then to all the world .
Now most manufacturers are in the USA, China, Australia and also some in Europe.
MONEY DRIVES BUSINESS
There are now many trampoline parks in the USA, Canada, and around the world. Dozens more open every year, with the majority being franchises. People can get in by paying an hourly rate, and trampoline parks are pretty profitable. Trampoline parks are doing big business because it's a lot cheaper to take the kids there for a couple of hours then to go to an amusement park, and they're popping up in cities and suburbs all across the country which makes access easy for people. They are great spots to host a kids' party, and many parks have party options for parents to take advantage of.
Also in the USA and some other coutries, there are no other recreational activities better than trampoline park, becuase the trampoline park is a multifunctional sport and
entertainment activity , it can hold many people to play at the same time, meanwhile , no matter you are
3YEARS or 30 years or maybe even yonger or older , you can play in the trampoline park.
ARE THEY SAFE?
A big issue every parent should be concerned about is safety. Are trampoline parks safe? The answer is open for debate, but the parks themselves do seem to take safety seriously. As with any kind of physical activity, injuries can happen, and because of the nature of trampolines those injuries can sometimes be serious. It should be noted, however, that broken bones and other serious injuries are rare. The risk is minimal if everyone plays by the rules.
To ensure the rules are followed the parks employ monitors to watch the jumping field, kind of like life guards at a pool. Anyone acting in a dangerous manner is asked to leave. Anyone looking to go to a trampoline park should still be aware of their limitations. Jumping really high and trying to do a couple flips without having been shown how could end badly, but that is really the jumper's responsibility, not the park's.
Even if the trampoline park manufacturer or supplier can give very long time warranty or make very high quality products, but most injuries are caused by the jumpers , as a professional manufacturer in China, Xiaofeixia Group suggest all the jumpers should jump in your own ability.
THE INDUSTRY LEADERS
The trampoline park are started in the USA, so most options are from the USA , but Xiaofeixia (SVIYA) Group started to make trampoline in 1977 , but during that time was not for big trampoline park, only for small round or rectangle trampoline, and in around 2004-2005, we started to build trampoline park and sold our parks to
all around the word, we are first trampoline park manufacturer in China , and also the first one who have
got both the ASTM and TUV certificates.
The industry is growing so quickly it even has its own association. The International Association of
Trampoline Parks was founded to promote safety and growth within the trampoline park industry.
Trampoline parks are here to stay and could be a great option for your family's next recreational outing.